ISO8583 converter to JSON XML SQL to HTTP host - message flow - video guide - Part.2
Posted on 29th Oct 2020 7102 views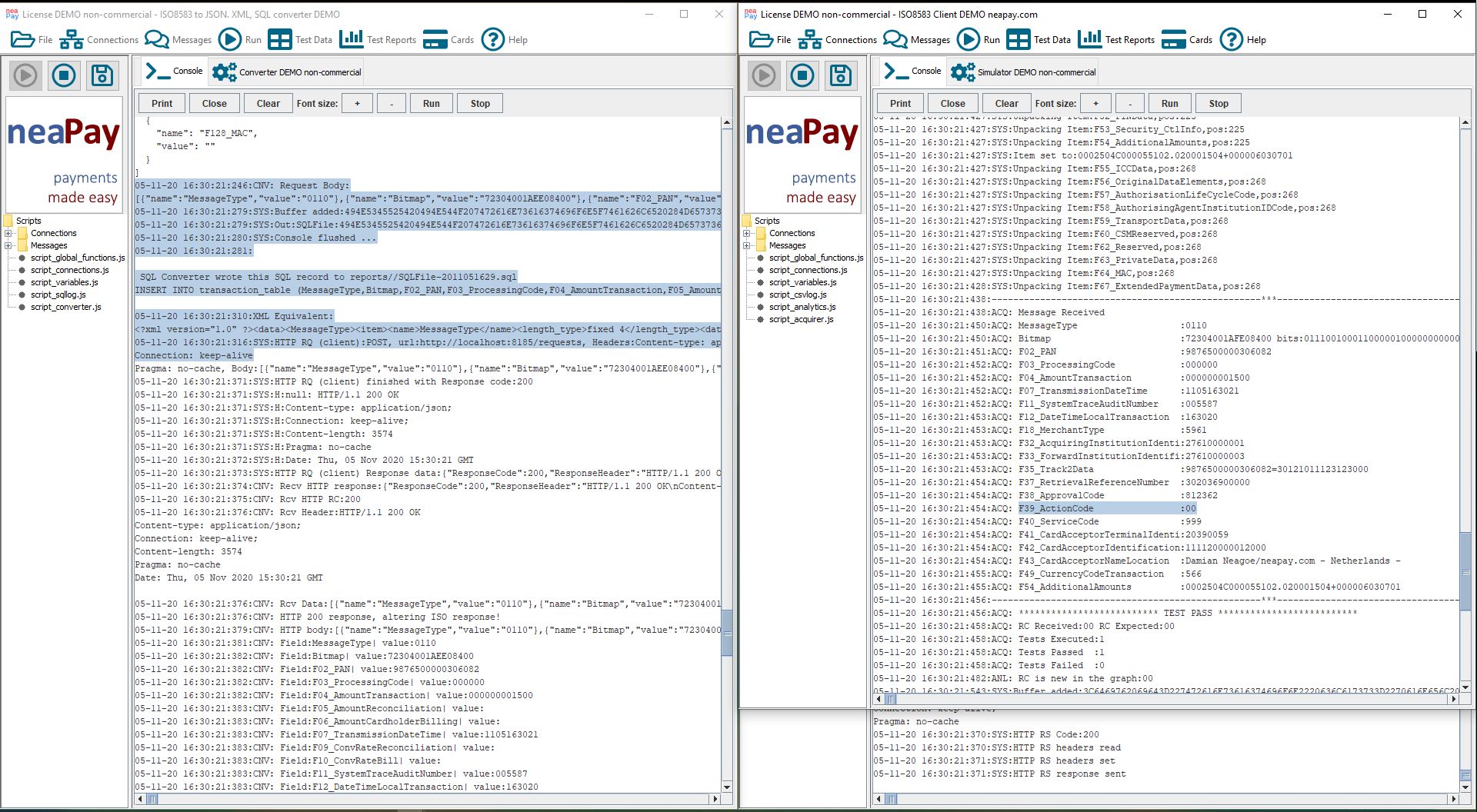 Video guide at the end of the article
The ISO8583 message flow, via TCP/IP, to the converter.
In this video we follow the data from Acquirer (ISO8583 simulator) through ISO8583 Converter to JSON, to HTTP Host and back.
The Converter unpacks the ISO8583 message
The converter receives an ISO8583 request.
In this example, the Converter creates an implicit ISO8583 response.
Basic Authorization rules are used to create the response.
The ISO8583 prepared response is the one being sent to the Web Host.
The Converter ensures the ISO8583 response correctness in terms of fields and format, so the Host does not have to.
Alternatively, the ISO8583 converter can convert the original ISO8583 request and send it to the Host.
The Converter then converts this ISO8583 message to JSON, XML, SQL.
In this example, we choose to send the JSON as POST to a web host.
A basic mapping is used to copy each ISO8583 field in a simple JSON key-value array.
No ISO8583 structure is being sent over, oly the field values. Any other information can be sent.
The same simple key-value pair mapping is used to create an XML. This is useful for ISO8583 to ISO20022 conversion or, for example, web reports.
This XML can be sent as a body to a HTTP host as well.
The key-value pair is also used to create an SQL insert statement. This is useful for logging transactiosn to databases.
All data sent as JSON, XML, SQL is ASCII so the converter also makes teh necessary conversions. For example, binary data is sent as hex equivalent.
Eventually the HTTP request is created and the POST is sent to the WEB Host.
The Web Host receives the converted ISO8583 message as JSON POST request
We use the HTTP Web simulator to start a web server and listen for incoming requests.
The Web host simply reads the JSON data and alters 2 fields, the Response Code and Service Code.
The Web host sends the data back, with 2 changed fields.
The converter acts upon the Host Response.
The ISO8583 converter receives the HTTP response.
Then compares the received data with the response it has created.
The converter trusts that the host has made the necesssary data alterations.
The Converter then packs the ISO8583 response to send back to the Acquirer.
The ISO8583 converter ensures the ISO8583 format in detriment of the data.